La Clusaz - RESORT INFO : Webcams, Weather... ONSKIOO La Clusaz
ONSKIOO - ANNECY - SKI RESORTS > La Clusaz
RESORT INFO - La Clusaz : Webcams, Weather. Any information on the resort of La Clusaz: Discovery, history, winter sports, champions, gastronomy... ONSKIOO La Clusaz
SKI RESORTS > La Clusaz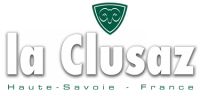 « I didn't expect such a diverse and plenty of fun area » !
Skiers on their first time to La Clusaz are often surprised by how much is on offer. This beautifully preserved domain has 5 interlinked massifs with diverse skiing possibilities catering to all experience levels. Each and every massif is remarkable in its own way. The 84 pistes, with a total of 125km of slopes are accessed by a network of highly efficient ski lifts. A shuttle bus service also links La Clusaz to Le Grand Bornand resort and with a Massif des Aravis ski pass, you can access an impressive 220kms of slopes.
La Clusaz can also boast of being part of the circle of resorts with pistes with the biggest vertical drops: from the summit of Balme to the village there is over 1 500m of altitude to ski down!
A WHITE WONDERLAND RIGHT TO SPRING
The La Clusaz domain has some of the best snow conditions in France, with the Aravis massif forming the first 'natural barrier' to the Alps and so capturing all the precipitation. This means the resort regularly opens earlier in November, at the same time as the biggest resorts in France. The exceptional snow conditions means a full 5 months of skiing in La Clusaz.